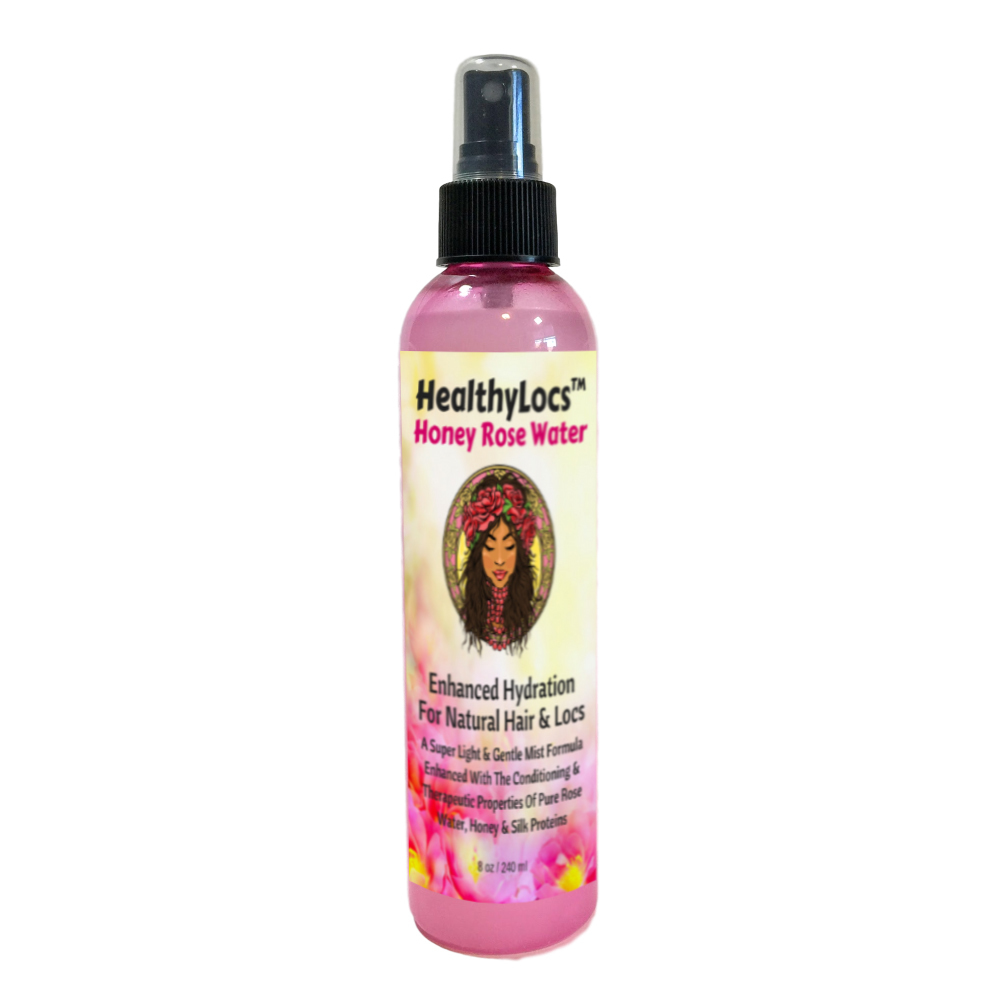 *NEW* HealthyLocs Honey Rose Water
SKU HRW
Product Details
HealthyLocs Honey Rose Water
HealthyLocs Honey Rose Water is Enhanced Hydration for Natural Hair & Locs. It's a super light and gentle mist formula enhanced with the conditioning & therapeutic properties of pure rose water, honey & silk proteins.
As far as I know, this mist may be the most substantial and conditioning rosewater mist on the market. This light and delicate mist is really good for those who realize the importance of moisture for our natural hair and scalp, but don't want a product that produces build up. Yes, water is moisturizing, but when your hair dries, you're left with even drier hair. This mist, like all my mists, has conditioning agents that help maintain softness, a natural sheen and of course, much needed hydration.
Honey Rose Water is the "lightest" of my 3 mists. Clients and customers with extremely soft or thin hair, or who are newly locked, really appreciate this mist.
NOTE: Honey Rose Water can be used interchangeably with the 3-in-1 Daily Mist.
A therapeutic and aromatic blend that will help hydrate, condition, soften and strengthen hair. The anti fungal, antibacterial and antiseptic properties of rose water is known to soothe scalp inflammation and helps lessen dry scalp, dandruff and itchiness. Honey is a natural humectant (attracts moisture) and conditioner that smooths the hair cuticle and provides a natural sheen. Silk proteins protects and strengthen the hair shaft.

The scent isn't like any other rose water that you've smelled and it's not the old fashioned traditional rose scent. It's an obvious fragrant soft rose scent, but upgraded with a touch of raspberries. A wonderful combination.
Lightly spray this mist as often as you like when needed to quickly and gently hydrate any natural hair style throughout the day.
This Honey Rose Mist is my newest hair mist and fast becoming my favorite because of it's multiple uses. Here's how I've been using it so far. Experiment and see what works best for you.
Supports A Healthy Scalp: lightly mist directly on a dry tight scalp, then apply "Ooh!" Dry Itchy Scalp Relief. Works wonders and provides instant relief
Supports Healthy Hair Growth: Rose water stimulates blood capillaries in the scalp, increases blood circulation and therefore increasing nutrients and oxygen to the hair follicles, which stimulates hair growth
A Natural Setting Lotion: Can also be used as a light setting lotion to create a "soft set" for curls and twist out hairstyles in natural hair and locs
Uplifting Aromatherapy Mist: I keep a bottle in my bag and lightly spray over my head and inhale deeply as the mist falls around me. It's soft and uplifting. I spray it in my closets, my car, above my salon chair before my clients arrive and in my bathrooms.
After Shower Body Mist: I also spray it on my damp skin after a shower or bath before applying Loc Luv or Sugar Shea Spa Oil. Rose water is very conditioning to the skin
Mood Setter: Before getting cozy with your significant other, spray your bed linens with Honey Rose Water and apply Sugar Shea Spa Oil to your hair and skin... Natural Aphrodisiac!!! That's all I'm gonna say! :)
Directions: Shake well and thoroughly mist through clean hair and work through with fingers. Style as usual. Can also be used as a natural setting lotion to create a "soft set" for curls and twist out hairstyles.
Ingredients: Pure Rose Water, Honey Conditioning Base Formula, Aloe Vera, Vegetable Glycerin, Hydrolyzed Wheat Protein, Silk Protein, Pro Vitamin B5, Vitamins A, B3, C, D & E, Rosemary EO (Rosmarinus Offincinalus), Fragrance, Optiphen Plus (Paraben Free and Formaldehyde Free Preservative)
Save this product for later