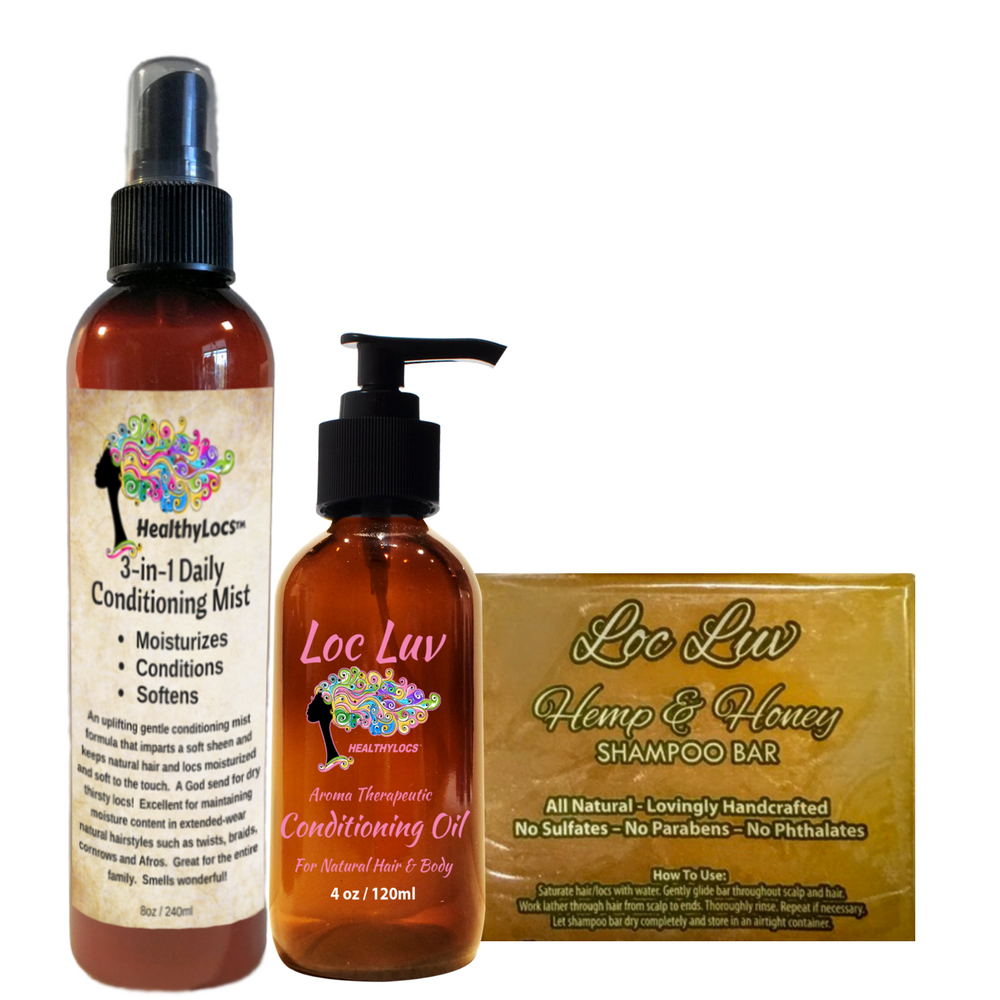 Loc Newbie Starter Kit
SKU LNSK
Product Details
Loc Newbie Starter Kit
Enjoy the biggest saving of all the combo sets! A Big Congratulations To YOU on you decision to loc your hair. The great thing about considering this kit for your new Sisterlocks (tm) or locs is that this kit is the perfect combination within the "HealthyLocs" system to keep your locs clean, conditioned and moisturized between your re-tightening sessions if you have Sisterlocks(tm); and grooming sessions if you have traditional locs. This is what all my new Sisterlocks(tm) clients are gifted with after their installation.
Loc newbies are instructed to lightly mist their new locs with the HealthyLocs Daily conditioning mist as needed (2 x 3 times a week) to maintain moisture content within the locs; and to directly follow up with an extremely light application of the Loc Luv Conditioning Hair & Body Oil as needed (1 x 2 times a week)
Note: Never apply the oil on dry locs. Always lightly mist your locs with the HealthyLocs 3-in-1 Daily Conditioner before applying a very light application of the Loc Luv oil to your locs. The oil should always be used way less than the mist. Consider Loc Luv as your "conditioner" to replace any "traditional" lotion-like or creamy conditioners, which are a No-No during this stage in your locking process. As you continue to use the products in the HealthyLoc System, you won't be plagued with product residue and build up within your locs over time...just soft, conditioned pliable locs that have a soft natural sheen and smell absolutely wonderful!
How to Use After A Shampoo: The very best time to apply Loc Luv is after your shampoo session. After shampooing with the Loc Luv Hemp & Honey Shampoo Bar, rinse thoroughly and towel dry your locs with a lint-free towel. Let your locs air-dry for about a half hour or so, mist with the the Daily Conditioning Mist and follow up with a light application of the Loc Luv Oil. You'll love the way your locs feel and smell!
This kit is all you will need to maintain a healthy sheen and keep the locs soft and pliable to the touch. The combination of lemongrass, rosemary, lavender & lime essential oil blend will fragrance your locs wonderfully.The majority of my clients have been using this combination of products for many, many years. Your locs will love it!
As always, if you have any questions before purchasing, don't hesitate to leave me a voice message on this site or call me directly at 302-836-3550. I'd be happy to answer your questions and assist you with your selections.
Wishing you a Nappy & Happy Hair Day!
Phyllis...Your Video Locktician
Note: Click Here for instructions on how to cleanse your hair with the Loc Luv Shampoo bar.
3-in-1 Daily Mist Ingredients: Purified Water, Conditioning Base Formula, Aloe Vera, Vegetable Glycerin, Hydrolyzed Wheat Protein, Vitamin E, Polysorbate 80, Pro Vitamin B5 (dl-Panthenol), Optiphen Plus (paraben free and formaldehyde free preservative) & fragrance
Loc Luv Ingredients: Purified Water, Conditioning Base Formula, Aloe Vera, Vegetable Glycerin, Hydrolyzed Wheat Protein, Vitamin E, Polysorbate 80, Pro Vitamin B5 (dl-Panthenol), Optiphen Plus (paraben free and formaldehyde free preservative) & fragrance

Loc Luv Shampoo Bar Ingredients: Sodium Cocoate (Coconut oil), Propylene Glycol(stabilizer/humectant), Sodium Stearate(helps harden the bar), Glycerin (humectant), Water, Sorbitol (moisturizer), Hemp Seed Oil(conditioner), Honey(conditioner), essential oil blend of lemongrass, rosemary, lavender, lime, dl-panthenol (pro-vitamin B5/conditioner), silk protien (hair softener)

Save this product for later